DESKTOP DEMO-MODEL PROJECT
DESKTOP DEMO-MODEL
The demonstration model greatly help us to assemble, disassemble and hands on approach to learn about a desktop model as we have enough knowledge of PC from our previous semester theory and practices.
A computer is an electronic device that manipulates information, or data. It has the ability to store, retrieve, and process data i.e., use a computer to type documents, send email, play games, and browse the Web, also use it to edit or create spreadsheets, presentations, and even videos.
The basic parts of a desktop computer are the computer case, monitor, keyboard, mouse, and power cord. Each part plays an important role whenever you use a computer.
The computer case is the metal and plastic box that contains the main components of the computer, including the motherboard, central processing unit (CPU), and power supply. The front of the case usually has an On/Off button and one or more optical drives.
Computer cases come in different shapes and sizes. A desktop case lies flat on a desk, and the monitor usually sits on top of it. A tower case is tall and sits next to the monitor or on the floor. All-in-one computers come with the internal components built into the monitor, which eliminates the need for a separate case.
Many people use desktop computers at work, home, and school. Desktop computers are designed to be placed on a desk, and they're typically made up of a few different parts, including the computer case, monitor, keyboard, and mouse.
The monitor works with a video card, located inside the computer case, to display images and text on the screen. Most monitors have control buttons that allow you to change your monitor's display settings, and some monitors also have built-in speakers.
Newer monitors usually have LCD (liquid crystal display) or LED (light-emitting diode) displays. These can be made very thin, and they are often called flat-panel displays. Older monitors use CRT (cathode ray tube) displays. CRT monitors are much larger and heavier, and they take up more desk space.
The keyboard is one of the main ways to communicate with a computer. There are many different types of keyboards, but most are very similar and allow you to accomplish the same basic tasks.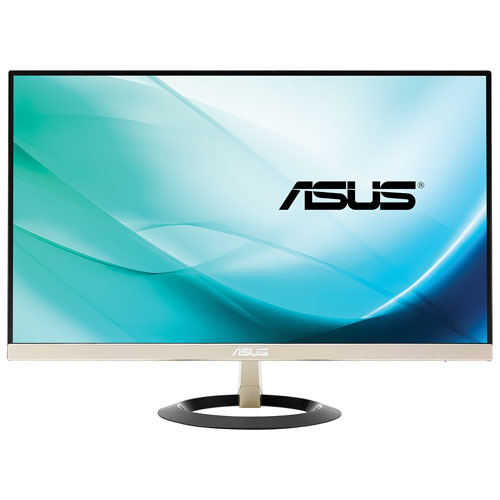 The keyboard is one of the main ways to communicate with a computer. There are many different types of keyboards, but most are very similar and allow you to accomplish the same basic tasks.
The mouse is another important tool for communicating with computers. Commonly known as a pointing device, it lets you point to objects on the screen, click on them, and move them.
There are two main mouse types: optical and mechanical. The optical mouse uses an electronic eye to detect movement and is easier to clean. The mechanical mouse uses a rolling ball to detect movement and requires regular cleaning to work properly. Before we talk about different types of computers, let's talk about two things all computers have in common: hardware and software. Hardware is any part of your computer that has a physical structure, such as the keyboard or mouse. It also includes all of the computer's internal parts, which you can see in the image below.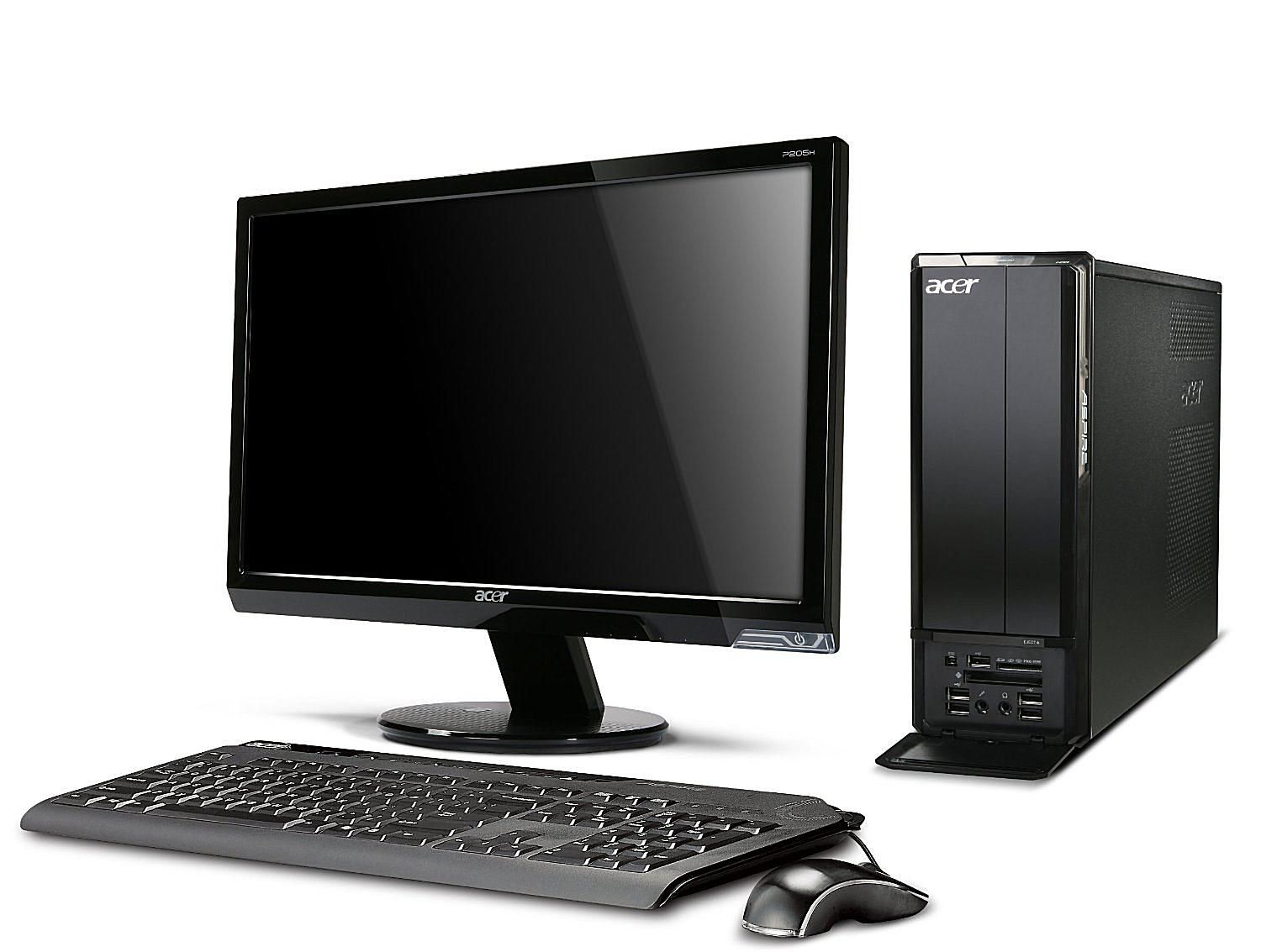 Software is any set of instructions that tells the hardware what to do and how to do it. Examples of software include web browsers, games, and word processors. Everything will rely on both hardware and software. For example, right now viewing a web browser (software) and using  mouse (hardware) to click from page to page.
The central processing unit (CPU), also called a processor, is located inside the computer case on the motherboard. It is sometimes called the brain of the computer, and its job is to carry out commands. Whenever you press a key, click the mouse, or start an application, you're sending instructions to the CPU. The CPU is usually a two-inch ceramic square with a silicon chip located inside. The chip is usually about the size of a thumbnail. The CPU fits into the motherboard's CPU socket, which is covered by the heat sink, an object that absorbs heat from the CPU.A processor's speed is measured in megahertz (MHz), or millions of instructions per second; and gigahertz (GHz), or billions of instructions per second. A faster processor can execute instructions more quickly. However, the actual speed of the computer depends on the speed of many different components—not just the processor.
RAM is your system's short-term memory. Whenever your computer performs calculations, it temporarily stores the data in the RAM until it is needed. This short-term memory disappears when the computer is turned off. If you're working on a document, spreadsheet, or other type of file, you'll need to save it to avoid losing it. When you save a file, the data is written to the hard drive, which acts as long-term storage.
RAM is measured in megabytes (MB) or gigabytes (GB). The more RAM you have, the more things your computer can do at the same time. If you don't have enough RAM, you may notice that your computer is sluggish when you have several programs open. Because of this, many people add extra RAM to their computers to improve performance.
The hard drive is where your software, documents, and other files are stored. The hard drive is long-term storage, which means the data is still saved even if you turn the computer off or unplug it.When you run a program or open a file, the computer copies some of the data from the hard drive onto the RAM. When you save a file, the data is copied back to the hard drive. The faster the hard drive, the faster your computer can start up and load programs.
The power supply unit in a computer converts the power from the wall outlet to the type of power needed by the computer. It sends power through cables to the motherboard and other components. If you decide to open the computer case and take a look, make sure to unplug the computer first. Before touching the inside of the computer, you should touch a grounded metal object—or a metal part of the computer casing—to discharge any static buildup. Static electricity can be transmitted through the computer circuits, which can seriously damage your machine.
Most computers have expansion slots on the motherboard that allow you to add various types of expansion cards. These are sometimes called PCI (peripheral component interconnect) cards. You may never need to add any PCI cards because most motherboards have built-in video, sound, network, and other capabilities.However, if you want to boost the performance of your computer or update the capabilities of an older computer, you can always add one or more cards. Below are some of the most common types of expansion cards.
The video card is responsible for what you see on the monitor. Most computers have a GPU (graphics processing unit) built into the motherboard instead of having a separate video card. If you like playing graphics-intensive games, you can add a faster video card to one of the expansion slots to get better performance.The sound card—also called an audio card—is responsible for what you hear in the speakers or headphones. Most motherboards have integrated sound, but you can upgrade to a dedicated sound card for higher-quality sound.
The network card allows your computer to communicate over a network and access the Internet. It can either connect with an Ethernet cable or through a wirelessconnection (often called Wi-Fi). Many motherboards have built-in network connections, and a network card can also be added to an expansion slot.
PC Main power connector (usually called P1): This is the connector that goes to the motherboard to provide it with power. The connector has 20 or 24 pins. One of the pins belongs to the PS-ON wire (it is usually green). This connector is the largest of all the connectors. In older AT power supplies, this connector was split in two: P8 and P9. A power supply with a 24-pin connector can be used on a motherboard with a 20-pin connector. In cases where the motherboard has a 24-pin connector, some power supplies come with two connectors (one with 20-pin and other with 4-pin) which can be used together to form the 24-pin connector.
12V only power connector (labelled P1, though it is not compatible with the ATX 20 or 24 pin connector): This is a 16-pin Molex connector supplying the motherboard with six 12 V lines with common returns, a 'supply OK' signal, a 'PSU ON' signal and an 11 V auxiliary supply. One pin is left unused.
12V only System monitoring (P10): This is a 171822-8 AMP or equivalent connector carrying a supply to the PSU fan and sense returns.
ATX12V 4-pin power connector (also called the P4 power connector). A second connector that goes to the motherboard (in addition to the main 24-pin connector) to supply dedicated power for the processor. For high-end motherboards and processors, more power is required, therefore EPS12V has an 8-pin connector.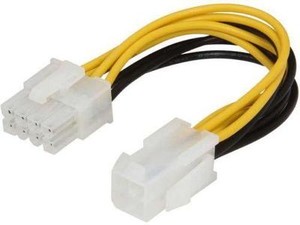 4-pin Peripheral power connectors: These are the other, smaller connectors that go to the various drives of the computer. Most of them have four wires: two black, one red, and one yellow. Unlike the standard mains electrical wire color-coding, each black wire is a ground, the red wire is +5 V, and the yellow wire is +12 V. In some cases these are also used to provide additional power to PCI cards such as FireWire 800 cards.
4-pin Molex (Japan) Ltd power connectors (usually called Mini-connector, mini-Molex, or Berg connector): This is one of the smallest connectors that supplies a 3.5-inch floppy drive with power. In some cases, it can be used as an auxiliary connector for Accelerated Graphics Port (AGP) video cards. Its cable configuration is similar to the Peripheral connector.
Auxiliary power connectors: There are several types of auxiliary connectors designed to provide additional power if it is needed.
Serial ATA power connectors: a 15-pin connector for components which use SATA power plugs. This connector supplies power at three different voltages: +3.3, +5, and +12 V.
6-pin Most modern computer power supplies include six-pin connectors that are generally used for PCI Express graphics cards, but a newly introduced eight-pin connector should be seen on the latest model power supplies. Each PCI Express 6-pin connector can output a maximum of 75 W.
6+2 pin For the purpose of backwards compatibility, some connectors designed for use with high end PCI Express graphics cards feature this kind of pin configuration. It allows either a six-pin card or an eight-pin card to be connected by using two separate connection modules wired into the same sheath: one with six pins and another with two pins. Each PCI Express eight-pin connector can output a maximum of 150 W.
An IEC 60320 C14 connector with an appropriate C13 cord is used to attach the power supply to the local power grid.
Desktop PC platforms based on the Intel® P965 Express Chipset, combined with either the
Intel®Core™2 Duo or Intel® Pentium® D processor, deliver incredible performance and innovative capabilities for digital home consumers.
With advancements in memory performance, responsiveness, power efficiency and data protection, the Intel P965 Express Chipset allows your PC to be the centre of home computing, communication, and entertainment.
The Intel P965 Express Chipset incorporates Intel® Fast Memory Access, an updated Memory Controller Hub (MCH) backbone architecture that significantly increases overall system performance through the optimization of available bandwidth and reduction of memory access latency. This updated MCH with Intel Fast Memory Access also includes wider internal data buses that support dual-channel DDR2 memory technology at 800 MHz (up to 12.8 GB/s of peak memory bandwidth) for greater platform performance and memory flexibility.
869 total views, 1 views today